Early Childhood Teacher Training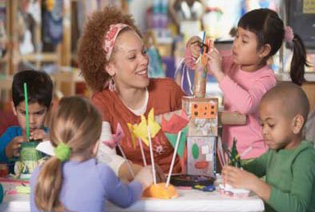 Use American Sign Language (ASL) to 'unlock the potential in every child'. ASL's multi-sensory approach to learning helps all children improve language and literacy skills and addresses the different learning styles of children who are not only auditory learners they also learn visually and kinesthetically (touch and experience). These staff development classes are designed to assist teachers with creating innovative lessons that bridge communication with dual language learners, build vocabulary, enhance social-emotional development and increase self-confidence.
Signing A-Z: Fingerspelling and the Manual Sign Language Alphabet
Join the fun and let your fingers do the talking. In this 2-hour workshop interactive workshop you will have the opportunity to learn the manual fingerspelling alphabet along with 26 American Sign Language (ASL) signs. Using manual hand signs and ASL in your classroom will provide children with a physical way to represent letters and visually identify letters and words. Upon completion of the class, you will have the basic skills to teach the manual alphabet and signs to the children you serve.
Easy as P.I.E. – Promoting Social-Emotional Development with Sign Language.
Children need a combination of intellectual skills, motivational qualities, and social-emotional skills to succeed in school. This 2.5 hour workshop provides a fun learning experience as you explore a multi-sensory 'Sign, Say and Do' approach for helping young children learn how to identify and name their feelings. This engaging, 3-step approach introduces a combination of words, books, sign language and pictures to help children Process –Identify and appropriately Express their emotions and feelings.
Building Alphabet Knowledge with American Sign Language.
This 2.5-hour workshop is designed to introduce early childhood professionals to the ASL signs for the letters of the alphabet through fun songs, games, and craft projects. Upon completion of the class participants will have the basic skills to sign the alphabet and teach the alphabet to the children they serve.
Ready- Set – Sign Classroom Management the Fun Way!
This presentation will discuss the educational advantages to teaching all children American Sign Language with a focus on creating an "inclusive" educational environment where children can learn, socialize and communicate.  Through fun songs, signs and games this 3.5 hour "hands-on" workshop will provide easy to use classroom management techniques and how to strategies to incorporate sign language into classroom etiquette, greetings, daily routines, signs for following directions, transition songs and signs for clean-up and going outside.
Contact Us to Bring a Signing Class to your Home, School, Library or Childcare!